Airport taxis Farnham if you are looking for reliable airport taxi service, then you have come to the right place. When it comes to travelling to and from airport, finding the best of airport taxis is important. At Olly's Airport taxis, everything has to be handled with precision to ensure that the passenger continues to have a smooth journey. You are more than just a passenger for us when you put your trust in our service, we make it our top priority to deliver what we promised.
Olly's airport taxi Farnham offer a full 24/7 fixed price airport and seaport taxi transfer service from Farnham to take you to and from your chosen airport or seaport, whether it would be for holiday or business travel.
A 'Meet and Greet' service can be arrange when booking whereby the driver will be in arrivals with the passenger's name or company name, whichever you prefer.
If your flight is early or subject to delays, we check all arrival times and adjust accordingly.
At Olly's airport taxis Farnham, we value your time, comfort and money above everything else. We believe that being helpful and polite are important factors in providing a good service to our customers.
Why to choose us
Personal service
Competitive prices
We specialise in airports, seaports and any longer distance travel.
Courier service
Bottled water
Reliable and friendly
Modern fleet
Contract work welcome
Corporate accounts
All major credit & debit cards accepted
Please contact us to make bookings and enquiries.
Olly's Cars
---
Wonderful service. Extremely reliable and trustworthy. Always kind and helpful and willing to help in any way he can. I cannot recommend anyone more highly. Thanks Olly. Judith O'Donnell
---
Great service. Extremely friendly, trustworthy and always on time. An exceptionally reliable taxi driver. Will definitely be using again and recommend to everyone. Thanks Olly!
---
We used Olly's taxi service twice last weekend and were so impressed that we used him again on Tuesday. Two jobs were airport runs, which were carried out with great efficiency. We will continue to use Olly's taxi and would recommend him very highly!
---
Quite simply Olly ticks all the boxes. Professional, courteous, efficient and timely! I would certainly recommend him to anyone needing a taxi service.
---
Farnham overview
Farnham is a town in Surrey, England, within the Borough of Waverley. The town is 34.5 miles WSW of London in the extreme west of Surrey, adjacent to the border with Hampshire. By road Guildford is 11 miles to the east and Winchester a further 28 miles along the same axis as London. Farnham is the largest town in Waverley, and one of the five largest conurbations in Surrey. It is of historic interest, with many old buildings, including a number of Georgian houses. Farnham Castle overlooks the town. A short distance southeast of the town centre are the ruins of Waverley Abbey, Moor Park House and Mother Ludlam's Cave. Farnham is twinned with Andernach in Germany. It is drained by the River Wey (North Branch) which is navigable only to canoes at this point.
The town has a number of attractive houses from various periods, and many passages which reveal hidden parts of the town including old workshops, historic cottages and hidden gardens. Farnham Castle was built by the Normans and updated over the years as the Palace of the Bishops of Winchester. The former Bishops' Palace of the castle is now a training and conference centre, which also manages the keep, recently made more accessible by a Heritage Lottery Fund Grant. The keep is open to the public, and organised tours of the palace are held weekly.
---
Airport Taxis
We specialize in providing airport and seaport transfers for general public, business and corporate people.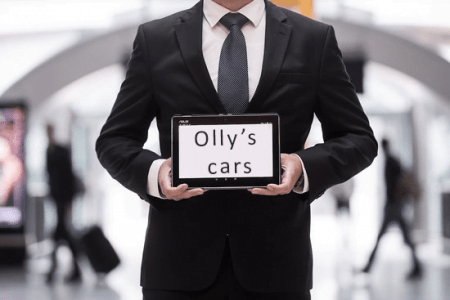 Meet And Greet
Our driver will be holding up a board with your name on it if meet and greet service is requested.
Private Hire
We specialise in longer-distance journeys, we will get you there in comfort.
---
Our cars
The estate cars can carry up to four passengers and offer suitable space for more luggage. This is the perfect option for passengers with a large amount of luggage and bulky items.
Executive cars available.
8 seater minibus available.
---
Hotels in and around Farnham
---
Olly's Airport Taxis
We always use Olly's cars for our airport runs, which are frequent and I must say that this is the best service we have ever used. Drivers, including Olly are really friendly, super efficient and professional. The cars are always immaculate. Brilliant!
We pround to receice:
5
out of
5
with
151
ratings
---