Airport taxi Selborne if you are looking for reliable airport taxi service, then you have come to the right place. When it comes to travelling to and from airport, finding the best of airport taxis is important. At Olly's Airport taxi Selborne, everything has to be handled with precision to ensure that the passenger continues to have a smooth journey. You are more than just a passenger for us- when you put your trust in our service, we make it our top priority to deliver what we promised.
Olly's airport taxi Selborne offer a fixed price airport and seaport taxi transfer service from Selborne to take you to and from your chosen airport or seaport, whether it would be for holiday or business travel.
A 'Meet and Greet' service can be arrange when booking whereby the driver will be in arrivals with the passenger's name or company name, whichever you prefer.
If your flight is early or subject to delays, we check all arrival times and adjust accordingly.
At Olly's airport taxi, we value your time, comfort and money above everything else. We believe that being helpful and polite are important factors in providing a good service to our customers.
Why to choose us
Personal service
Competitive prices
We specialise in airports, seaports and any longer distance travel.
Courier service
Bottled water
Reliable and friendly
Modern fleet
Contract work welcome
Corporate accounts
All major credit & debit cards accepted
Please contact us to make bookings and enquiries.
Selborne overview
The attractive village of Selborne in East Hampshire is famous for its association with the 18th Century literary naturalist Gilbert White. His book 'The Natural History of Selborne' records his observations on local animals, birds and plant life, and has been continuously in print since 1789. White constructed the Zig-Zag path up the Selborne Hanger and from here there is a magnificent view of The Wakes, more commonly known as Gilbert White's House, and the village in its countryside setting. The Zig Zag path forms part of a circular walk.
Gilbert White's House also contains the Oates Museum, with exhibits on the adventures of Captain Lawrence Oates and his uncle Frank. Lawrence Oates' life and tragic death on the 1911 Scott expedition to the South Pole is explained.
Walk across the Plestor (the village green) and through the churchyard and you come to the Lythes which run along the Oakhanger Stream valley. This is National Trust land, and forms part of the Gilbert White circular walk.
The historic Church of St. Mary's, on the site of the original Saxon church, contains two magnificent stained glass windows commemorating Gilbert White.
The Selborne Gallery (Hampshire Artists Cooperative) and Selborne Pottery are on the Plestor.
There is a pub in the village serving food, the Selborne Arms and a number of shops including the Exotic Woodcraft Shop and the Village Post Office and Stores.
Olly's Cars
---
Wonderful service. Extremely reliable and trustworthy. Always kind and helpful and willing to help in any way he can. I cannot recommend anyone more highly. Thanks Olly. Judith O'Donnell
---
Great service. Extremely friendly, trustworthy and always on time. An exceptionally reliable taxi driver. Will definitely be using again and recommend to everyone. Thanks Olly!
---
We used Olly's taxi service twice last weekend and were so impressed that we used him again on Tuesday. Two jobs were airport runs, which were carried out with great efficiency. We will continue to use Olly's taxi and would recommend him very highly!
---
Quite simply Olly ticks all the boxes. Professional, courteous, efficient and timely! I would certainly recommend him to anyone needing a taxi service.
---
Airport Taxis
We specialize in providing airport and seaport transfers for general public, business and corporate people.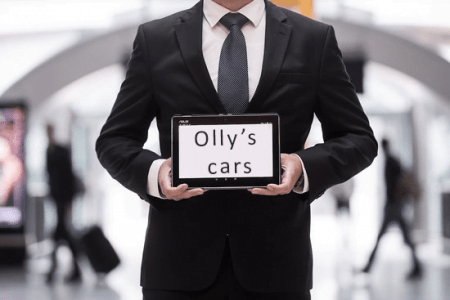 Meet And Greet
Our driver will be holding up a board with your name on it if meet and greet service is requested.
Private Hire
We specialise in longer-distance journeys, we will get you there in comfort.
---
Our cars
The estate cars can carry up to four passengers and offer suitable space for more luggage. This is the perfect option for passengers with a large amount of luggage and bulky items.
Executive cars available.
8 seater minibus available.
---
Hotels in and around Selborne
---
Olly's Airport Taxis
We always use Olly's cars for our airport runs, which are frequent and I must say that this is the best service we have ever used. Drivers, including Olly are really friendly, super efficient and professional. The cars are always immaculate. Brilliant!
We pround to receice:
5
out of
5
with
151
ratings
---